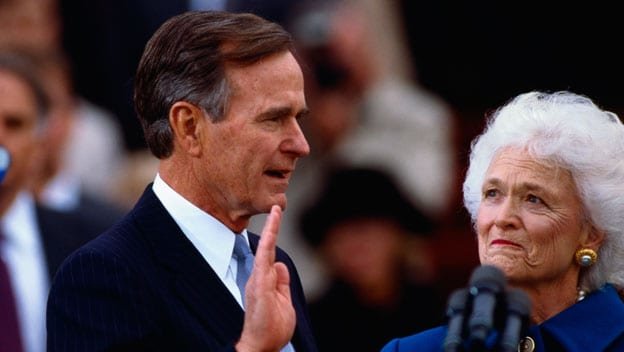 Young Love: George H.W. Bush's Love Letter to Barbara from WW2 Goes Viral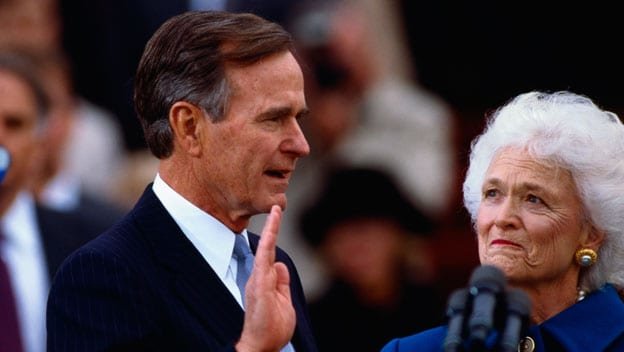 The internet loves sensations. The latest development in the online world has seen George H.W. Bush's letter to his then doting fiancee, Barbara, go viral. The letter was seen by many as a reflection of the immense love the couple have had for each other through seven decades.
In 1942, George enlisted to the navy as a young 18 year old eager to take on the world. However, it wasn't until he joined the force that he proposed to his fiancee. The letter paints a picture of the couple celebrating their engagement, which had only occurred about 4 months prior. At the same time, the letter gives us a little background on their upcoming nuptials.
The letter went viral largely because Barbra passed on last week on Tuesday night. Glimpses of George's joy with regards to their engagement is apparent. He affectionately describes Barbra as 'darling Barb'.
In the letter, George expresses how much his affection for Barbara was and that he had recently found conflict given his role in the Navy. He mentions that he was very eager to be given a chance to go home to his fiancee.
His book, "All the Best, George Bush: My Life in Letters and Other Writings" mentions an elaborate setup to arrange to see Barbra during the commissioning of the USS San Jacinto in December 15, 1943.
At the time, his squadron was assigned to the USS San Jacinto. Understandably, young George longed for the moment to present itself, to see Barbara seemed to be what he really wanted. The timing? During the ship's commissioning. Incredibly, he was able to link up with not only Barbra, but also his mother during the commissioning as they attended the event held at the Philadelphia Naval Yard.
He asks her to pose as a Mrs. by saying she'd lost an invite to the gig. It was a brilliant idea because once they checked out her name in the list, she was okayed to proceed.
Insights
In addition, George delves into how much his work environment is changing by mentioning that he was yet to come to grips with the 'seriousness' of the task at hand. As an assistant gunnery officer, he has to juggle so many things all at once. At times, that frightens him.
The work scene seems promising to him though seems to mention that he might change to the position of gunnery officer once Lt. Houles leaves. While he knows nothing about the soon-to-be new position, he mentions his delight about the job and promises to communicate further about it later.
His adoration for Barbra is apparent once he reveals that if they were allowed to have names on their planes, he would have renamed it from "#2" to "Bar #2". He explains that his plane's name will have to remain changed only in spirit because no such thing was possible. At that moment, he could do nothing other than watch it have camera's installed at Quonset.
Impressively, George ensures that the letter ends is style by reminding Barbra how much she hates it when he calls her beautiful. Still, he insists that she'll have to adapt to the moniker since it was an expression of his love. He still remains hopeful that they'll get to meet up on Thursday once he gets the day off.
Sign Off
His signature featured his nickname, Poppy, and he jokingly referenced himself as Barbara's public fiance starting 12/12/43. This was after their engagement was publicly put in the newspaper.
In the book, George reveals that it was the only one Barbara managed to save from his time during the war. She had it saved in an engagement scrapbook. Unfortunately, all the other letters were lost. Before George met up with Barbara, he was training as a naval aviator.
Shortly after her death, George issued a statement about his wife's death and paid tribute her relentless efforts towards absolute family literacy. The statement came just a few days after Barbara was admitted to hospital with chronic obstructive pulmonary disease and congestive heart failure. She refused additional treatment and returned home to be with her husband and family.