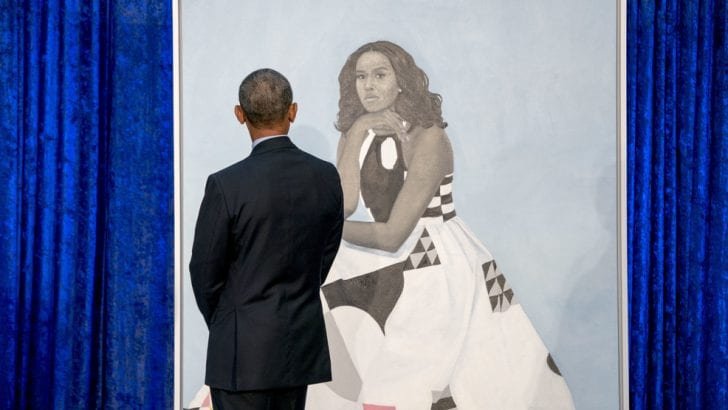 Large Crowds Force Smithsonian to Move Michelle Obama Portrait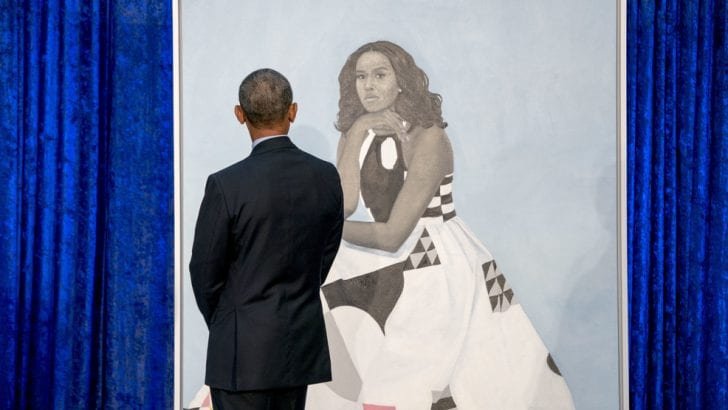 Michelle Obama is an interesting personality. The former first lady likes to do things her way. She decided to commission Amy Sherald, a Baltimore painter not used to momentous feats like painting her official portrait. The bold move perhaps shows a reflection of her eclectic taste in all matters of art.
As the adage goes, life does indeed imitate art. The reverse is also true. Her painting adorned the walls of the Smithsonian's National Portrait Gallery just last month. However, due to 'public demand', the painting had to be relocated to a different section of the museum considered more spacious. Like her life as a two-term first lady, her painting has received numerous admirers.
According to data shared by the Smithsonian Institution, more than 176,700 people visited the gallery in February 2018, more than any other month in the last three years.
Behind the Story
With paintings, there's always a story being told by the artist. In the artistic representation of Michelle, there's a larger story being communicated to audiences. Perhaps, in contemplation of what exactly the painting stands to represent, crowds have flocked en masse to deliberate on this trivial issue.
Yet still, the painting is a watershed moment. As the first African-American first lady to grace the White House during her husband's tenure, she managed to carve a name out for herself. Unmistakably, she went to great lengths in reminding us that slaves from all around the world built the White House in all its glory. The message was, of course, the great American dream and ethos of working together.
While many found some of her comments disturbing, she never shied away from speaking her mind on matters that she felt needed to be elucidated. In the painting, Michelle adorns grey skin color. While the colors don't do the painting much justice, it serves to tell a story. Even in artistic impression, the Michelle Obama story becomes retold.
The Artistic Perception
The artist, Sherald, likes to use upright standing characters against a backdrop of pastel monochrome. Previously, she has spoken out about her obsession with painting characters who have shaped our times. Her subjects' ineffable "quality of existing in the past, present and future simultaneously" depict an artistic storyteller.
It's safe to say that with her status as a former first lady, Michelle Obama is one of the most photographed ladies in the world. As such, one would only expect that any representation of her image anywhere to be similar to what we already know about her. However, thanks to Michelle Obama's liaison with a fabulous artist, we somehow manage to get a glimpse of a side most of us are unfamiliar with.
In the portrait, Michelle Obama sits against a sky blue oblivion. The triangular shape of her dress seems to turn her into a mountain. Given her previous stature, she once did stride like a colossus. Perhaps the painting simply attempts to imitate life. It is, after all, the best form of flattery.
Insights
In her first term as the first lady, Michelle had to be insulated from the public perception about her. In a way, one can say that she was just as heavily scrutinized as her husband was. All through the laughs and personal tribulations at the White House, she somehow managed to keep a calm head. It came with the territory.
Incredibly, she remains a public figure whom many regard as an important member of society. Numerous people would like to hear her take on how the presidency affected her family and herself. Amazingly, perhaps the painting divulges a little bit of insight about the innings and goings of the enigma she once was, and still is.