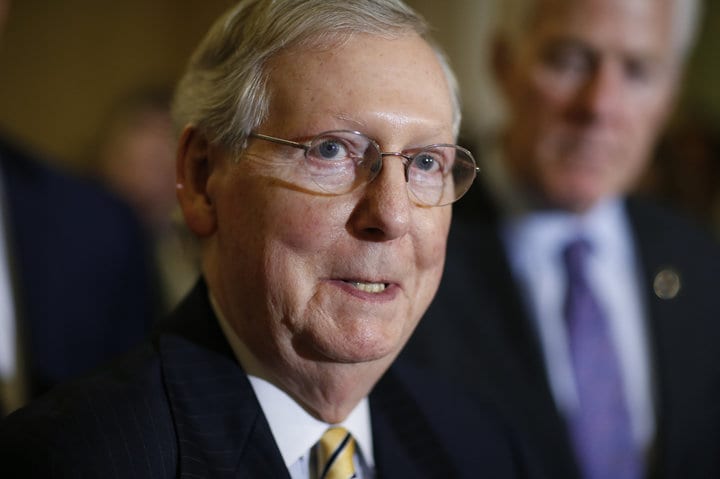 Mitch McConnell's Brother-in-Law is Trump's Pick to Run Pension Agency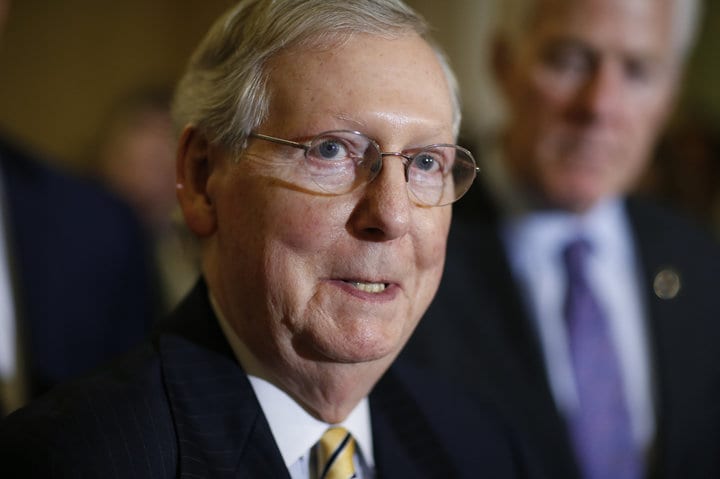 Gordon Hartogensis, a Washington outsider, has just been selected as the new head of the government agency charged with the role of paying back dissolved pensions. The news was met by many with great applause. Most of the Trump voters saw the move as Trump taking serious his previous assertions during the campaigns that he would "drain the swamp" in Washington by doing away with those who are politically connected.
Following his nomination to head the Pension Benefit Guaranty Corp. a Labor Department agency charged with the collection of insurance premiums from sponsors of defined-benefit plans and pay out benefits when companies are unable to meet their obligations. However, before he assumes office, his appointment needs to be confirmed by members of the Senate. Once that is done and dusted, he is expected to replace W. Thomas Reeder Jr., an Obama administration official who was hired in October 2015.
Immediately the news broke to major news outlets, attempts to reach Hartogensis for comment bore no fruit as he declined to share any correspondence via phone. Reporters were able to dig through his LinkedIn profile and discovered that he currently manages his family's trust. Before he took on the mantles of managing his families trust, he was previously CEO and co-founder of Auric technology between 2004-2011. Before that, he had worked with a couple of other technology companies.
Questions Raised
Following his nomination by President Trump, critics were quick to question the government on the ethics used in the selection process and whether Hartogensis was properly vetted as a nominee. Their concerns sound genuine because Hartogensis does not have prior public service experience nor can he provide insights into the pension agency's mission.
Scott Amey, the general counsel of the Washington-based Project on Government Oversight, shared his belief that the White House's process for the naming and vetting of candidates was deeply flawed. He made a point of stating that the move looks like the classic scenario where leaders get appointed based on who they know rather than what they know.
He added that he the government seemed lackadaisical in 'draining the swamp' as many had initially expected. According to Amey, the latest move by the Housing and Urban Development Secretary, Ben Carson, to invite his businessman son to a Baltimore "listening tour" was tantamount to a violation of the ethics rules.
Different Take
The White House released a statement that seemed to opine that Hartogensis was perfectly suited for the new role given his previous experience as an investment banker. Because of those specific skills, White House officials believe that he has what it takes to run the agency competently. The White House statement also mentioned the fact that the first agenda on Hartogensis's plate would be to tackle the deficit that has doubled since 2013.
Amazingly, the Presidential Personnel Office, a White House operation charge with the oversight, recruitment, and vetting of appointees has been knee-deep in queries related to inexperience and mismanagement following revelations brought to light by the media in March.
At present, it remains unclear whether Chao or McConnell made the recommendation based on their close family ties with Hartogensis. Once quizzed about the nature of Hartogensis's famous connections, the White House pleaded the fifth.
Notably, a spokesperson for McConnell and The Department of Transportation refused to comment on the matter. Instead, they redirected all queries to the White House. This prompted the White House to issue a statement that went at length to try and depict Hartogensis in a good light. The statement referred to Hartogensis as an investor and technology sector leader with bags of experience managing financial equities, private placements, bonds and software development.