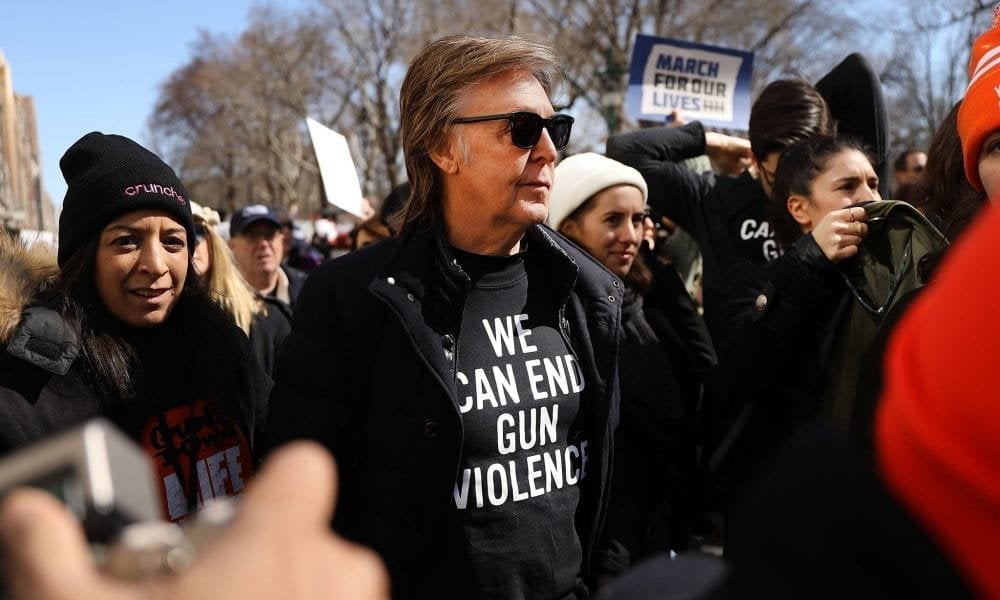 Beatles Legend Sir Paul McCartney Honors John Lennon by participating in March for Our Lives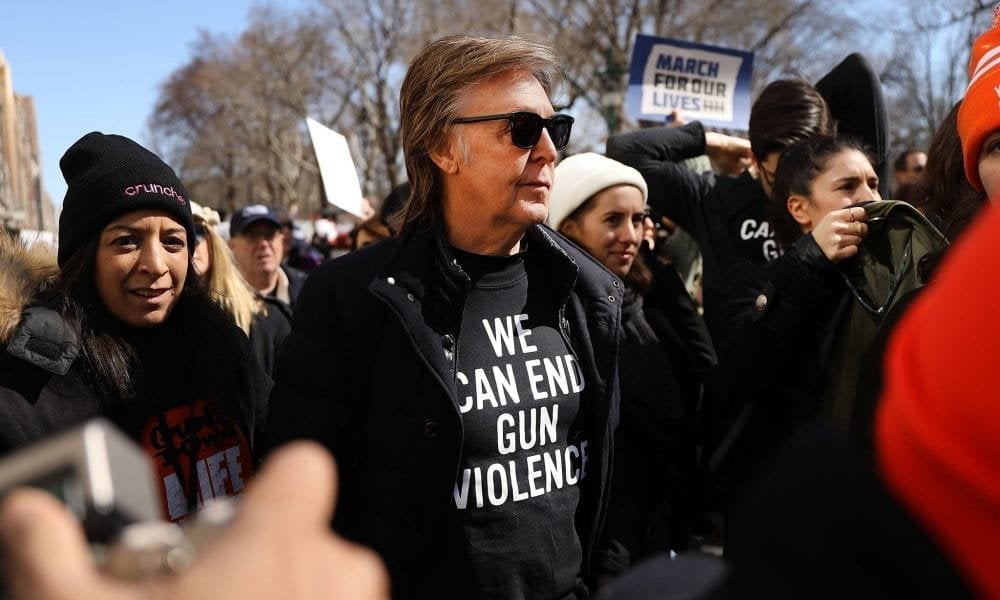 The Beatles were a formidable pop/rock music band. They started to work together as early as 1957 and through the years, gained notoriety for their infectious tunes and prowess around the studio, in concert and their poise.
It would be safe for anyone to claim that The Beatles lay the foundation stone for modern day music culture. Their music was unique in its simplicity. The band members had a mop top haircut that became synonymous with their act as musicians. From a style, fashion and music perspective, they set themselves apart from everyone else back then.
The band had four members, John Lennon, Sir Paul McCartney, George Harrison and Sir Ringo Star. Through the years, they grew from a musical perspective in that they were able to experiment and try out new sounds. In doing so, they managed to establish themselves as true musicians worth their salt.
The Beatles were used to living in the limelight and having paparazzi constantly follow them all-around. At one point, one of the members, John Lennon gained some degree of infamy once he compared Beatles popularity among the youth with Jesus Christ.
Once the circus around the comment died down, they returned to making great music and touring. However, the John Lennon reference did allude to some truth about just how much they were adored by the masses.
For the Fame
In a weird twist of fate, in the years after the group had parted ways, John Lennon was murdered on his way back home from the studio. His assassin, Mark David Chapman revealed that he was an ardent fan of The Beatles. He said he had executed John Lennon in order to become famous too.
Bizarrely enough, Lennon had signed an autograph for his soon to be fan/killer earlier on in the day on 8 December 1980. He shot Lennon from the back right outside his apartment.
Fittingly, in honor of his slain friend, Sir Paul McCartney decided to partake in the anti-gun march to show solidarity with fellow New Yorkers. The recent Parkland massacre highlighted a need for citizens to call to action about gun reforms.
Survivors of the Parkland shooting organized a number of events in order to raise awareness about the wanton killings happening around communities. The group has managed to organize more than 800 sister marches all around the globe. Numerous cities have taken part in the march to promote gun control; these are Tokyo, Mumbai, Chicago, and Sydney.
During their years together as bandmates, Sir Paul McCartney had a cordial relationship both on and off the stage. Their singing and writing prowess was responsible for a slew of hits. Their voices were uniquely identifiable and meshed perfectly together.
Gun Violence
During the march, interviewers were able to pick his brain on why he was taking part in it. In no uncertain terms, he expressed that he was taking part in the march since it bears a lot of significance to him. He revealed that John Lennon was shot not too far away from where the march was taking place.
His determination was evident as he brought along his wife, Nancy Shevell for the march. Together, they rocked matching t-shirts emblazoned with the words "WE CAN END GUN VIOLENCE". Indeed, the intent was clear.
The reporters quizzed him about his t-shirt and in what capacity he thought he could help the cause. Being a simple man, he simply pointed out to the fact that at present, sensitization on the issue at hand was the most important thing for the masses. By partaking in the march, he was simply giving his stand on what he felt was an important matter.
The main protest happened in Washington DC where more 334,000 people converged in order to raise awareness. The hot topic of gun regulations was the main talking point.
Other than Sir Paul McCartney, celebrities like Charlie Puth, Amy Schumer, Connie Britton and Olivia Wilde have also expressed support for the march.